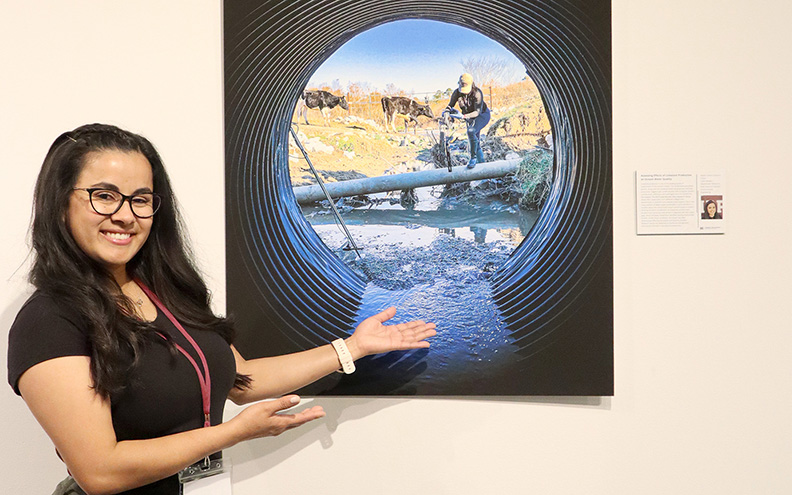 MSU Graduate School Recognizes Winners of Image of Research Competition
Contact person: James Carskadon
STARKVILLE, Mississippi—Four Mississippi State University graduate students are being recognized for their creativity in capturing the research process.
MSU's Graduate School recently held the Image of Research competition, which featured 15 images and short descriptions of graduate students that were on display in the Colvard Student Union Art Gallery. The competition gives students the opportunity to creatively engage with their research, share behind-the-scenes views of their research processes, or showcase their academic study in visual form.
A panel of judges selected the first and second place winners, with the first place winner receiving a $300 prize and the runner up receiving $200. A prize of $150 is awarded to the winner of the public prize. This year's winners include:
First place: Lorena Chavarro-Chaux of Starkville, master's student at the Richard A. Rula School of Civil and Environmental Engineering for "Assessment of the Effects of Livestock Production on Stream Water Quality";
Second place (tie): Rebecca Bracken, PhD student in the Department of Wildlife, Fisheries and Aquaculture in Austin, Texas, for "A Feeling Like No Other";
Second place (tie): Macy Gosselaar, master's student in the Forestry Department of Olathe, Kansas, for "Frozen in Time; A snapshot of an environmental moment; " and
People's Choice: Varsha Singh, PhD student in the Department of Plant and Soil Sciences for "Study of sweet potato root exudates for sustainable weed management".
To view the submissions that were on display in the Colvard Student Union Art Gallery, visit https://www.grad.msstate.edu/sites/www.grad.msstate.edu/files/inline-files/2022%20IOR%20Program%20FINAL%20%28corrected%29.pdf.
To learn more about the MSU Graduate School, visit www.grad.msstate.edu.
MSU is the main university in Mississippi, available online at www.msstate.edu.