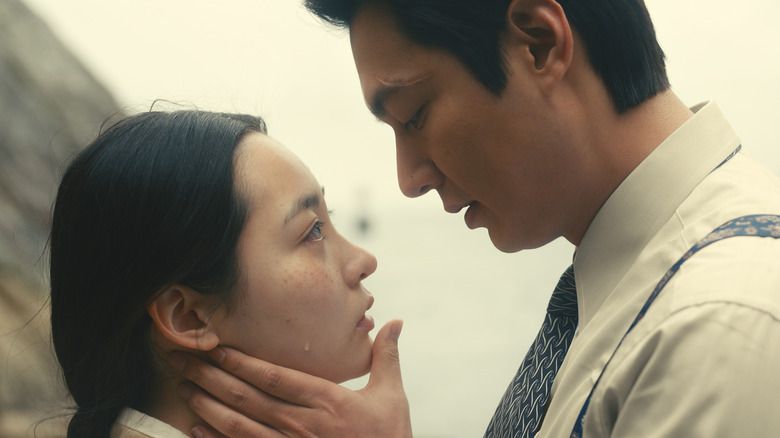 First Look at Pachinko TV Series Revealed
Min Jin Lee's multi-generational novel Pachinko now has a premiere date and teases its first look at a harrowing tale.
Min Jin Lee's Novel Pachinko comes to life through Apple TV+'s drama of the same name. The first images in the series reveal a nuanced and heartbreaking portrayal of Lee's multi-generational romance.
The upcoming drama follows the hopes and dreams of four generations of a Korean immigrant family. The story begins with a forbidden love and dives deep into a saga that travels between Korea, Japan and America. While telling "an unforgettable story of war and peace, love and loss, triumph and judgment," the series will be told in three languages: Korean, Japanese, and English. While Pachinko is originally a love story, the novel has been widely praised for its understanding of themes such as racism and stereotyping. The book explores how the Japanese occupation of Korean territory had far-reaching effects on the cultures and relations of the two countries during World War II and afterwards.
The series features an internationally acclaimed cast with Lee Minho, Oscar winner Youn Yuh Jung (minari), Minha Kim, Soji Arai, Jin Ha, Inji Jeong, Kaho Minami, Steve Sanghyun Noh, Anna Sawai, Junwoo Han, Eun Chae Jung, Jimmi Simpson and Yu-na Jeon.
Here's the first look at Apple TV+ Pachinko
Pachinko is written, created and produced by Soo Hugh (Terror), who will also serve as showrunner. Kogonada and Justin Chon also serve as executive producers on the series and have directed four episodes each, with Kogonada directing the pilot. Michael Ellenberg and Lindsey Springer produce with Media Res; Theresa Kang-Lowe produces with Blue Marble Pictures; and co-executive producer Dani Gorin of Media Res, along with Richard Middleton, David Kim and Sebastian Lee.
"They say there are these projects that come in and change the very core of who you are as a filmmaker and a person. Undoubtedly, Pachinko is that project for me. Not only is this a story of my ancestors, it is my tribute to them – to all of the "Sunjas" buried deep within our entire family history. It's been an incredible honor to bring this series to life with such a dedicated and talented cast and crew." said writer and creator Soo Hugh.
The early images above give a first look at Sunja's (Kim Min-ha) upbringing, her intimate relationship with Hansu (Lee Minho), and Solomon's (Jin Ha) career in America.
Although a synopsis for the series has not been revealed, we do know that Pachinko will premiere March 25 on Apple TV+ with three episodes, followed by new weekly installments every Friday through April 29, 2022.
Vince Vaughn set to star in Ted Lasso creator's Bad Monkey for Apple TV
Based on the 2013 novel, Bill Lawrence brings Bad Monkey to the extensive Apple Originals roster.
Read more
About the Author