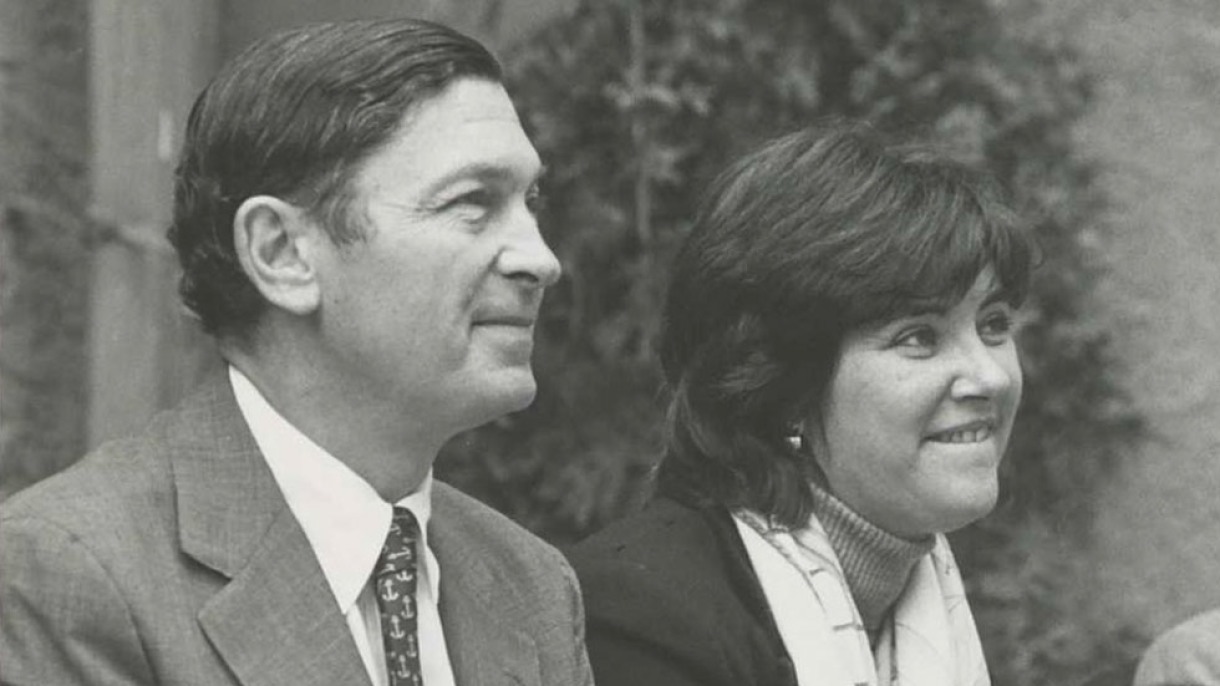 Community unites to celebrate Martha and Artemis Joukowsky, Brown's "longtime ambassadors"
Paxson said the Joukowskys' story began more than 65 years ago, when the two met in College Hill. A 1958 graduate who attended Pembroke College, where women studied at Brown until 1971, Martha Joukowsky became a prominent Near Eastern scholar, conducting fieldwork in Lebanon, Hong Kong, Italy, Turkey and Jordan, while Artemis pursued a career in international business. When the couple returned to Providence in the mid-1980s, Martha taught Brown as a teacher for more than 20 years until her retirement in 2002. His extraordinary reputation as an archaeologist, and in particular his groundbreaking discoveries at Petra, led dozens of aspiring female archaeologists to come to Brown to work alongside her.
"Martha [was] the archaeologist I've always wanted to be since I was 6 years old," Jarrett A. Lobell, a graduating class of 1992 and current editor of Archeology magazine, shared at Friday's event. "In college, classics and archeology seemed like a lot of men to me, [yet] Martha was president of the Archaeological Institute of America. I didn't know I would be working there…just like Martha. We are not the women we are without the women in our lives.
In the stories about Martha Joukowsky shared by Brown executives and alumni, common themes emerged. They recalled the archaeologist's penchant for greeting everyone with three kisses on the cheek. They remembered the sandboxes that Joukowsky had set up to teach the basics of fieldwork inside the former Center for Archeology and Old World Art on Waterman Street. They shared vivid memories of the first time Joukowsky invited them to lunch at her home on Power Street, the nights they spent in her spare bedroom when they found themselves without heat or lodging, the hours spent leaning on slides in his basement. They wiped away tears as they remembered the teacher's unfailing generosity.
"I had the key to his house, and I wasn't the only one," recalls Eleanor Power, a graduate of the class of 2007, now assistant professor of methodology at the London School of Economics. "This basement was open to everyone. Martha gave us this refuge that was [both] physical and emotional. She trusted us, expected us to rise to the occasion…and we did.
Prior to the panel, Paxson shared that in honor of the generous spirit of the Joukowskys, Brown would establish an Artemis AW and Martha Sharp Joukowsky Memorial Fieldwork Fund to provide additional support to students participating in fieldwork. field and practical archeology around the world. She expressed the hope that the fund would enable future generations of archaeologists to lead useful and reputable lives, just as the Joukowskys had.
"Without Arte and Martha," Paxson said, "Brown wouldn't be where he is today. I truly believe that's true.