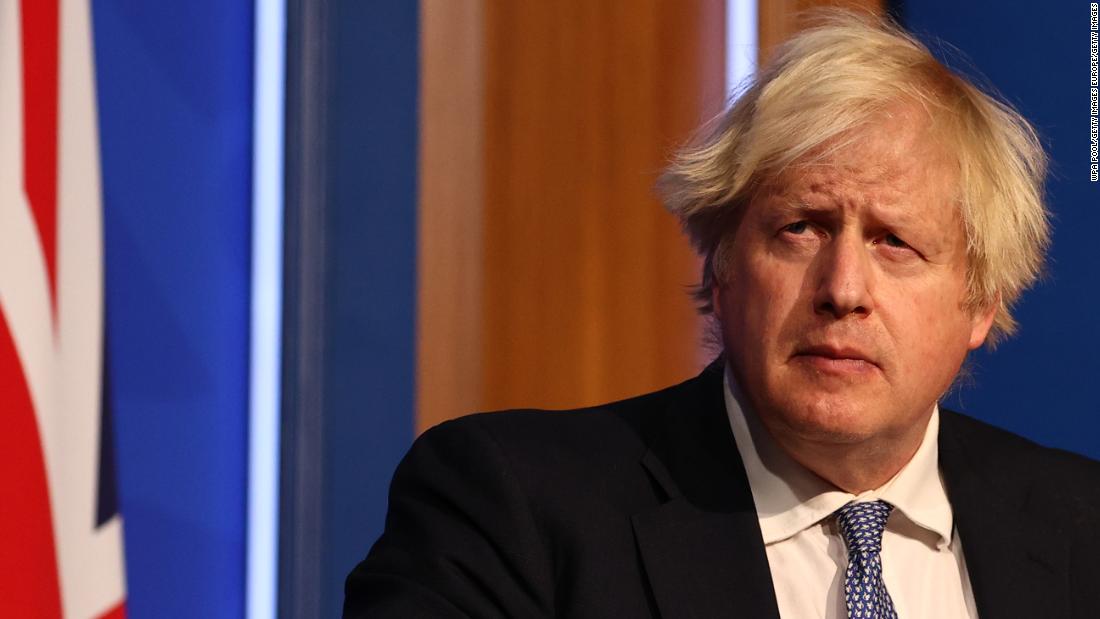 Boris Johnson: Downing Street staff invited to end-of-lockdown party, leaked emails from top official shows
The email, from Johnson's senior private secretary, Martin Reynolds, invited more than 100 staff to "socially distant drinks in Garden No.10" on May 20, 2020, encouraging them to "bring (their) own alcohol "and" making the most of the good weather. "
At that time, strict lockdown restrictions were in place in England, prohibiting more than two people from meeting outside.
The revelation escalates the scandal of a series of allegedly rule-breaking parties in and around Downing Street that have sparked public fury, knocked Johnson's Conservative Party down in opinion polls and led to a scrutiny of his post as Prime Minister.
In the email, first published by ITV News on Monday, Reynolds said: "After what has been an incredibly busy time, it would be nice to make the most of the good weather and have a drink at social distance. in Garden No10 tonight. "
"Please join us from 6pm and bring your own alcohol!" email added.
A source who worked in Downing Street at the time confirmed the contents of the email independently to CNN.
The revelations have led to yet another wave of public outrage, which has been brewing since the first reports of a Christmas party in Downing Street in 2020 were published last December.
Two-thirds (66%) of UK adults say Johnson should resign following allegations he attended the BYOB social rally when England was on lockdown, according to a new Savanta ComRes snap poll, released on Tuesday .
And four in 10 people (42%) who said they voted for Johnson's Conservative Party in the last election said he should resign, the poll found. That's a nine point – 33% – increase in people saying he is expected to step down in December.
Hannah Brady, an activist for the Covid-19 Bereved Families for Justice group, said her father died from the virus four days before the email was sent. "At the time, everyone would have known that going to a party was wrong, so how could those in charge of the country think it was right?" She said in a statement.
"To think that while this was happening Boris Johnson was making the most of the weather and throwing a party for 100 people is really beyond belief," she added. "Could there be a more shameful example of 'one rule for them, and another rule for the rest of us'?"
Mixing between households was at the time limited to two people, who could only meet outdoors and at a distance of at least 2 meters (6.5 feet). In the workplace, official guidelines stipulated that face-to-face meetings should only take place when "absolutely necessary".
The wisdom of hosting an aperitif during this time has been questioned by some guest staff, according to the BBC. One of them wrote to a colleague: "Is this real? ", While another message read:" Hmm. Why is Martin encouraging a mass gathering in the garden? The BBC reported.
Johnson declined to respond to reports that he and his wife, Carrie Johnson, attended the event when a reporter pressed him on Monday, saying only: "This, as you know, is the subject of a proper investigation by Sue Gray. "
Gray, a senior official, has been tasked with investigating the alleged parties. She took on the role after Cabinet Secretary Simon Case was removed from the investigation, following revelations he learned of a party being held in his own department.
Edward Argar, the Minister of State for Health, also deflected questions on the issue on Tuesday. "I don't know what happened or didn't happen. All I saw were the reports, the email that was reported yesterday and various sources cited by various media and media outlets, "Argar told UK broadcaster Sky News.
"That is why it is right that this be independently reviewed by Sue Gray, and therefore it would be wrong for me to comment."
But Keir Starmer, the leader of the opposition Labor Party, said on Tuesday: "Boris Johnson, your hijackings and distractions are absurd.
"Not only did you know the Downing Street parties, you attended them," Starmer added. "Stop lying to the British public. It's time to finally tell the truth."
And the Metropolitan Police, which have been criticized for refusing to investigate any of the reported parties, said they were "in contact with the Cabinet Office" about the event.
A worsening scandal
Johnson has faced several allegations that social events took place inside 10 Downing Street in the spring of 2020 and in the run-up to Christmas that year, when local restrictions banned such gatherings.
When those questions started, Johnson brushed them off, saying no parties had been held and his employees and assistants had always followed the rules. But since then, a flood of allegations and leaks have shed light on several alleged gatherings.
Last month, a photo emerged which allegedly showed Johnson drinking wine with Downing Street staff at a rally on May 15, 2020 – five days ahead of the scheduled Bring Your Own Alcohol rally date. The image, shared with the Guardian, shows staff gathered in the Downing Street Garden, which is also the Prime Minister's residence. In the photo, Johnson is seen with his then-fiancée Carrie Symonds and two other people seated at a table with bottles of wine and a cheese board.
A Downing Street spokesperson responded to the image, saying: "Business meetings are often held in the Downing Street Garden during the summer months. On this occasion there were staff meetings after a press conference n ° 10. "
Meanwhile, a video of staff joking about a "Christmas party" in December 2020 that "was not socially distanced" prompted the resignation of Allegra Stratton, one of Johnson's closest associates.
CNN established last month that social gatherings did take place on December 18, 2020, as well as November 27 of the same year, and confirmed a Daily Mirror report that Johnson himself gave an impromptu speech during the this last.
A separate photo of Johnson hosting a Christmas quiz night in Downing Street that allegedly violated Covid-19 restrictions was later released by UK newspaper The Mirror. A spokesperson said that "the prime minister briefly took part in a virtual quiz to thank the staff for their hard work throughout the year."
Public anger prompted Johnson to call for an investigation. On Monday, the Prime Minister did not say whether he had already been interviewed by Gray.
Angela Rayner, Deputy Leader of the Labor Party and Shadow Chancellor of the Duchy of Lancaster, responding to the information on the email, said: "Boris Johnson has always shown he disregards the rules he is putting in place for the rest of us. "
"He tries to get those responsible to take responsibility for his own mistakes, but he sets the tone for the way Downing Street and the rest of the government operate," she added.
Richard Allen Greene of CNN in London contributed reporting.