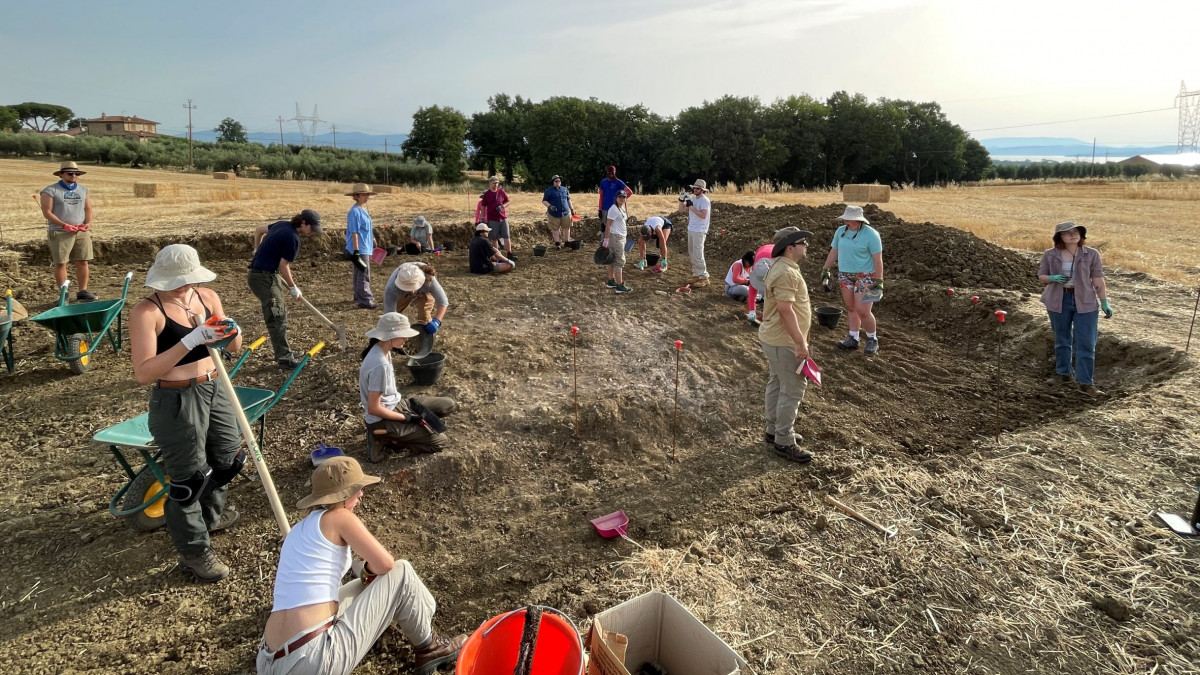 Archaeological digs reveal unusual artifact
Rebecca Schindler and Pedar Foss have spent much of their careers digging up ancient artifacts, but the one they and their students at DePauw University uncovered on July 4 came as a surprise.
As leaders since 2015 of several archaeological digs in central Italy, Schindler and Foss have supervised a number of students carrying out fieldwork, during which they have found many antiquities that date back to the 2nd century. BC and are housed in a museum. in Castiglione del Lago. Such fieldwork is a rarity for undergraduates, said Schindler, Edwin L. Minar professor of classical studies. Foss is Professor and Chair of Classical Studies as well as Schindler's wife.
The recent artifact is historic, although of a considerably more recent vintage: an unexploded mortar round, circa 1944, remnant of a battle between Allied forces and the Germans.
"Some kind of clod of dirt has popped up, as is often the case, and what you can see in the ground is just a tail fin," Schindler said on a recent Zoom call from the Italy. "The rest of the rocket casing is sunk into the ground. …
"It was one of those things where it's not unexpected, just given the history of the area, but it was really unplanned because you would have thought that in the years that followed, with everything agricultural work that had occurred in the area since the World War II, remnants of munitions from the war would have already been discovered. (Photo: only the caudal fin of the mortar shell was visible.)
The discovery launched Foss on a research project in which he learned that the shell had been launched on June 24, 1944 by British troops as they struggled – ultimately successfully – to break through German defenses in a line from Vaiano in San Fatucchio.
The downside of this unusual discovery is that the excavations had to be suspended. Local police cordoned off the shell and told Schindler that the excavation could continue, but the local government authority overseeing the activity called it off until the military could remove the shell. To occupy the students, who were four weeks away from a six-week expedition, Schindler and Foss had them take inventory of the items that had been found so far; observe the creation of three-dimensional models facilitated by Mike Boyles of DePauw's Tenzer Technology Center; learn about geographic information systems; and visit a nearby museum. (Photo: Students taking inventory of archaeological artifacts.)
The expedition, which is due to end on Saturday, involved the largest group Schindler and Foss have ever overseen – 10 DePauw students and 12 students from other US schools who signed up through DePauw's partner Umbra Institute. Students were involved for the first time since 2019; no expeditions were undertaken in 2020 or 2021, thanks to COVID-19, although Schindler and Foss spent three weeks last year researching with their Italian colleagues.
During this time, they discovered a promising archaeological site in an agricultural field near Ranciano. Local residents have known the site for a long time; tiles and pottery can be seen on the surface of the field, and when an irrigation canal was dug years ago, a bronze figurine of Eros with a sword was discovered. A magnetometric study also suggested that the site might prove fruitful.
Indeed, the team discovered a kiln, several broken but otherwise complete cooking pots, numerous shards of pottery, numerous fragments of bronze and iron, and what Schindler called "the most remarkable find": a small stone precious carnelian representing a shepherd dressed in a coat and heavy cap and holding a staff. A goat stands in front of him. The team also found more pieces "than we were able to extract in five seasons at the other site," Schindler said.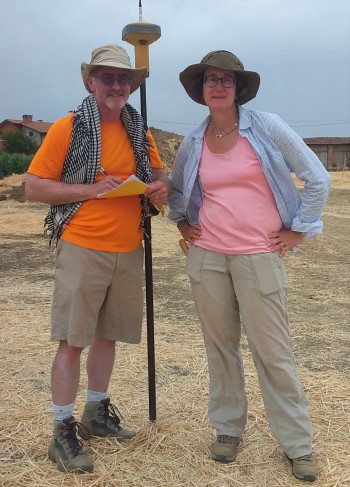 The other site is a Roman villa which dates from the 2nd century BC to the end of the 3rd century AD and was probably a luxury estate which over time was transformed into a large agricultural complex. The team is likely to return to this site one day but, in the meantime, the expansion of the Ranciano site has supported the team's vision as "a regional project to understand not just a site in the territory, but to understand the whole history of the territory". (Photo: Foss and Schindler.)
It's unclear whether the new site was also a villa or a cluster of small houses, but "it appears to be an important site," she said, and the team will ask to continue work next summer.
(Top photo: Students carry out archaeological digs in an agricultural field near Ranciano, Italy. All photos courtesy of Rebecca Schindler.)