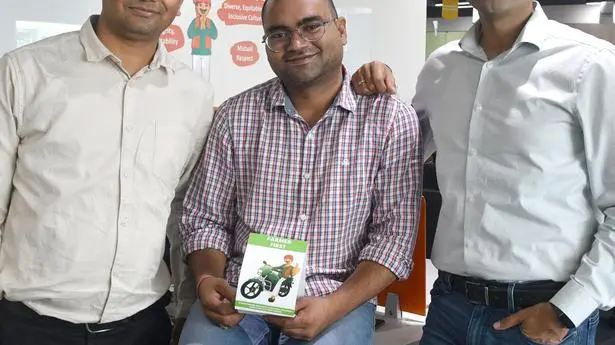 A bridge from farm to fork – DeHaat
Govinda Singh, a young farmer from Balka village in Bulandshahr district, Uttar Pradesh, is worried about his marigold plants wilting. He's not sure what's going on. In desperation, he rushes to Ram Kumar, who runs the Ram Kumar Keetnashak Dukhan (pesticide shop) in Saraya Takia, a few miles away, and shows him one of his plants. Kumar immediately tells her that the crop has been infected with root rot and suggests a remedy.
Kumar is able to explain the problem without referring to any material, thanks to the training he has, as a micro-entrepreneur or local distribution partner, received from DeHaat, the seed-to-market company based in Gurugram, which means "rural". He knows the solutions thanks to the agronomists' suggestions in the DeHaat app.
At hand

A little further in the village of Maithana Jagatpur, Kushal Sharma, 18, helps fellow Basmati rice farmers find farming solutions by consulting the DeHaat app, while Hukam Singh, 46, calls the call center of the start-up in search of solutions.
"It is easy for farmers to reach our business and it can be done in several ways: personal visit to the nearest micro-entrepreneur, or through the application or by calling our call centers", explains Pramod Murari, Lead – Agronomist and Extension – DeHaat.
That's how DeHaat, founded in 2012, has won over more than 1.3 million farmers, almost all of whom deal with the company in any given quarter, literally from seed to market. But the trip was grueling and difficult.
"When we started, farmers weren't even ready to share their cell phone number," says Shashank Kumar, CEO and co-founder of DeHaat.
three vertical

DeHaat learned the art of making the most of the digital world by helping farmers buy seeds, fertilizers, pesticides and insecticides directly through his app; obtain loans; purchase crop insurance and sell their produce at the best price. The Gurugram-based company operates across three verticals. The first provides agricultural inputs, the second advises farmers and the third markets agricultural products. Kumar says the company provides end-to-end solutions and ways to access the business for all their needs.
First to build a full stack

Some of the largest agribusinesses and exporters use DeHaat to actively source agricultural products. It has warehouses and a link with a private company for transportation to the farmers' doorstep.
"We were able to meet the needs of farmers through institutional relationships. We have 100-120 input suppliers on our platform to sell 2,100 products. We also have 900 buyers buying some 35 crops from us," says Shyam Sundar Singh, director and co-founder of DeHaat.
Giving an overview of the company's success, Kumar said, "We are the first company to create a full stack for farmers, driving digital adoption in rural areas since 2012-2013."
"We started digitization by moving to in-house technology first. Then we extended it to the value chain and finally to the farmers. The rapid growth in the use of smartphones has helped us a lot," says Sundar Singh.
How the system works

DeHaat centers are fully digitized with artificial intelligence, machine learning and data analytics.
His system works like this: if a farmer needs inputs, including seeds, he can use the app to place the order or call the call center. The local distribution partner accepts the placed order and prepares it for delivery, usually within hours. The farmer can either obtain it personally from the local partner or have it delivered.
A farmer who buys seeds automatically gets free insurance covering the life cycle of the crop. He can get paid insurance to make sure he gets compensation for either insufficient or excessive rainfall.
"DeHaat has partnered with IBM and the Indian Meteorological Service to provide localized weather data," says Murari.
Earn the trust of producers

"Agricultural inputs can also be obtained on credit. Farmers can get crop insurance through our app or local partners. They also have the option of selling their crop to us and we, in turn, give it to the buyers," says Sundar Singh.
More importantly, when the crop has problems, farmers can take a photo of it and upload it to the app. DeHaat agronomists will offer a solution with a company team occasionally visiting the farm if needed to provide relief. The solutions offered on the app can also be archived for farmers to consult in the future.
"On the other hand, when selling their produce, farmers do not face any risk as they get prices at or above the market price," says CEO Kumar.
Covering 10% of Indian villages

The company, which moved to Gurugram three years ago from Patna to build its technology team, has 9,000 micro-entrepreneurs on the ground in 110 districts to provide services to farmers in 60,000 villages. "This represents 10% of the total number of Indian villages," explains Sundar Singh.
Kumar adds, "We are now geotagging farmers' land to provide them with personalized solutions for weather, biotic and abiotic stress," he says. "We have even started experiments with drones in three or four districts, including Bulandshahr, Hapur (Uttar Pradesh) and Motihari and Sasaram (Bihar)," says Amrendra Singh.
Drone service

Mukesh Agarwal, a DeHaat micro-entrepreneur in Bulandshahr, explains that "drone spraying was carried out in Bulandshahr on areas of paddy that are difficult to manage manually, and sugarcane, given the height of the crop. Farmers are charged ₹350 per acre," he says. But the local partner must secure an order to spray at least 25 acres. "Including field mapping (called geo-fencing), the drone takes 20 minutes to spray an acre," says Murari.
No model to follow

"When we reached this place, we had no model to follow. There was no personalized data on the farmers, although various universities did phenomenal research," says Kumar.
The biggest hurdle DeHaat faced was the mindset of various people – from their own family members to farmers; it's a view shared by all the founders, including Amrendra Singh, who is also a director of DeHaat.
All of its co-founders, including Adarsh ​​Srivatsav who is headquartered in Bengaluru, came with backgrounds in IIT and management. More importantly, they were from farming families and "we wanted to do something at the farmer's doorstep," says Sundar Singh. "Changing the mindset of our family members who wondered why we had to do this was our first task," Kumar says.
Living in villages

"We did everything by ourselves. We just took our bags and started living in villages to understand the farmers. We met farmers and tried to understand their problems and solve them," says Amrendra Singh.
DeHaat, which started its journey with a group of farmers in Vaishali district of Bihar after operating as a non-profit company in 2011, has been able to revolutionize digital transformation, says Sundar Singh.
"One of the aspects of our business was to base our business model on choosing micro-entrepreneurs or local distribution partners," he explains. The focus on technology also helped a lot.
"The rapid growth of smartphones, the establishment of dedicated call centers for farmers and ensuring that no farmer travels beyond five miles to meet their needs through local distribution partners have all helped" , says Amrendra Singh.
growth path

"Ours is a unique farmer-driven model. This translated into two types of gains for farmers. One is measurable in terms of lower input costs, higher output and better price. Farmers are 100% assured that they are getting the right product at the right time," says Kumar.
The business grew organically, starting in Bihar and then expanding to Jharkhand, Odisha, East and other parts of Uttar Pradesh, West Bengal, Madhya Pradesh, Maharashtra, Chhattisgarh and Gujarat. "We will start in Andhra Pradesh shortly and in Assam in 3-4 months," says Sundar Singh.
DeHaat also entered the fruit and vegetable business by launching its own Farmplus brand to sell directly to customers. "We even bring these products from Pune to Bengaluru," says Amrendra Singh. "We have now started supplying European and Gulf markets by purchasing bananas, grapes and baby corn for our buyers," he says. The company has also ventured into livestock feed.
DeHaat complies with local mandi regulations while sourcing produce from farmers by obtaining the mandatory mandi license, says Amrendra Singh.
Farmer responses

Distribution partner Ram Kumar, who has been with DeHaat for three years, says his store caters to at least 500 farmers in his area and they save 5-10% on farm inputs. "Any order we place online, we get it within two days. Our grievances about pest attacks and crop diseases are dealt with immediately," says Gaurav Kumar, a 35-year-old farmer growing sugarcane and Basmati paddy in Maithana Jagatpur.He also benefits from geolocation, receiving alerts on risks to his crops.
Hari Om Shankar, a 61-year-old farmer who worked at CISF, says the cultivation solutions offered by DeHaat are like an expert diagnosis. In helping farmers switch crops, CEO Kumar says, "Initially, we work with farmers for 2-3 years around their existing crops. Then we encourage them to switch to corn or mint or sweet corn or herbs or lemongrass and offer extension services," he says.
"We promoted new varieties of mint as part of our outreach strategy to farmers," says Sundar Singh.
The founders of DeHaat are happy to have been able to change their outlook on agriculture, in particular by accepting the sector as a promising career.
Published on

September 09, 2022